The Sabrent Rocket 4 Plus vs Samsung 980 Pro come in the best performance NVMe category and have DRAM cache and lots of other similarities, but there also have some key differences. So which one is faster?  Let's check their specifications and real-world benchmarks and see which hard drive is worthy to purchase.
Sabrent Rocket 4 Plus vs Samsung 980 Pro Overview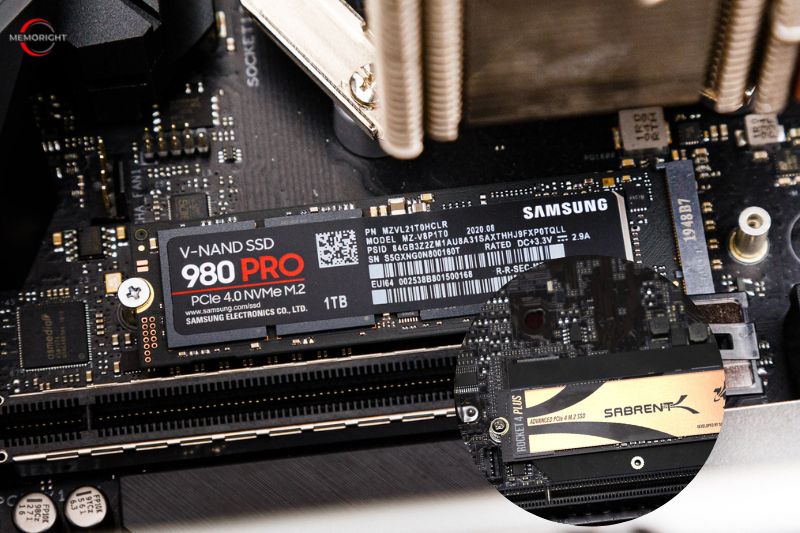 Sabrent Rocket 4 Plus
The Rocket 4 Plus is the company's latest NVMe Gen4 SSD powered by the Phison PS5018-E18 controller. The controller is a second-generation PCIe controller, a successor to the PS5016-E16 that powered the early Gen4 NVMe SSD like the Sabrent Rocket SSD. The controller is paired with Micron's 96L 3D TLC NAND Flash and DDR4 memory. If those specs sound familiar to you, that's because there are other NVMe Gen4 SSDs that have the same components used. For example the Gigabyte Aorus Gen4 7000s.
According to Phison, their E18 is "the only solution on the market" to break the 7GB/s barrier for both read and write access with superior power efficiency. The new controller is about 2.1x faster compared to PCIe Gen3x4 and about 1.5x faster compared to its predecessor, the E16.
Samsung 980 PRO
The 980 PRO was first previewed in January at CES as Samsung's first consumer SSD to support PCIe 4.0, but with very little technical information. No release date was announced but Samsung's PR said to expect more information in Q2. The big surprise is that the 980 PRO will apparently be using TLC NAND, a first for Samsung's PRO models. Samsung has been the last holdout offering high-end MLC-based SSDs while the rest of the SSD industry has moved on to TLC (and QLC), for both consumer and enterprise markets.
The switch from MLC to TLC means the rated write endurance of the 980 PRO will be half that of the 970 PRO and equivalent to the TLC-based 970 EVO and EVO Plus. The upside is that the 980 PRO may be more competitively priced against other high-end consumers NVMe SSDs.
Technical Data Comparison
Sabrent Rocket 4 Plus
Samsung 980 Pro
Capacities
1TB, 2TB, 4TB
250GB, 500GB, 1TB, 2TB
NAND
Micron B47R 3D NAND TLC
Samsung 128/136L 3D TLC
Interface
PCIe Gen4x4
PCIe 4 x4, NVMe 1.3c
Size
M.2 Type-2280
M.2 2280 Single-sided
Controller
Phison PS5018-E18
Samsung Elpis
Sequential Read
7000MB/s
6,400 MB/s, 6,900 MB/s, 7,000 MB/s, 7,000 MB/s
Sequential Write
5500 MB/s (1TB), 6850 MB/s (2TB/4TB drives)
2,700 MB/s, 5,000 MB/s, 5,000 MB/s, 5,100 MB/s
Random 4K QD32 Read IOPS
350,000 IOPS (1TB), 650,000 IOPS (2TB/4TB)
500,000 IOPS, 800,000 IOPS,

1,000,000 IOPS, 1,000,000 IOPS

Random 4K QD32 Write IOPS
700,000 IOPS
600,000 IOPS, 1,000,000 IOPS,

1,000,000 IOPS, 1,000,000 IOPS

Power Consumption R/W
6.3/6.6 Watts (1TB)

7.3/8.2 Watts (2TB)

9.7/9.7 Watts (4TB)

5.0/3.9 W (250GB)

5.9/5.4 W (500GB)

6.2/5.7 (1TB) W

Power Supply
3.3V
N/A
Operating Temperature
0~70 deg C
N/A
TBW
700 TBW, 1400 TBW, 3000 TBW
150 TBW, 300 TBW, 600 TBW, 1200 TBW
Warranty
5 years
5 years
Price
The Most Popular Comparisons: The 980 Pro vs Rocket 4 Plus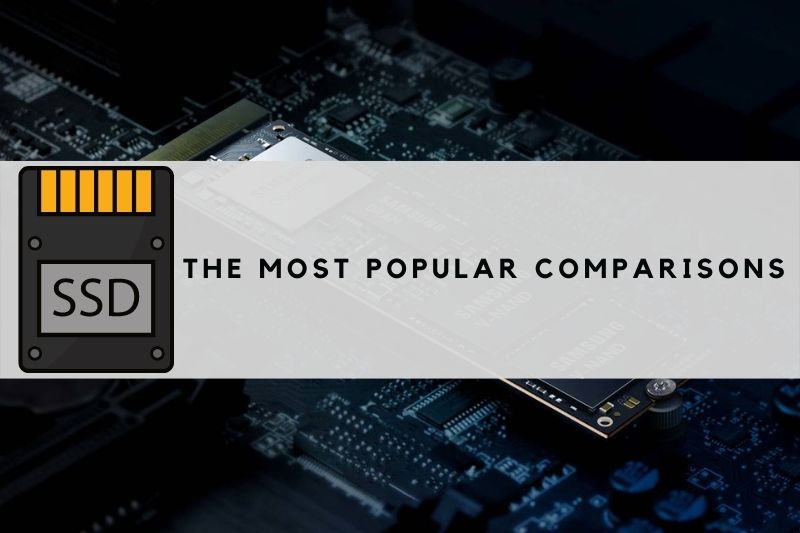 Form Factor and Interface
There are several similarities between the Samsung 980 Pro and Sabrent Rocket 4 Plus. The M.2 port on the system is used to connect the two SSD hard drives and they come with a PCIe and TLC 3D NAND interface. But there is a difference.
The 980 Pro uses Samsung's PCIe 4.0 x4 and has 128/136 NAND layers in some variants, whereas the Rocket 4 Plus uses the Micon's PCIe 4.0 x4 and just has 96 NAND layers. In this case, the 980 Pro has more edge of use than the Rocket 4 Plus version.
Capacity
The Sabrent Rocket 4 Plus and Samsung 980 Pro allow you to choose between different storage capacities. The same available size options are 1TB and 2TB. However, the Rocket 4 Plus's maximum storage is 4TB. It doesn't offer friendly options at 250GB and 500GB, while 980 Pro's size versions are 250GB to 2TB. So, the Sabrent Rocket 4 Plus might be a good option for those looking for a large-capacity SSD and the 980 Pro provides more solutions for any customer demand.
Performance
The Samsung 980 Pro is rated at 7000 MB/s read and 5000 MB/s write, while the competing Sabrent Rocket 4 Plus is rated at 7000 MB/s read and 5500 MB/s write at 1TB version. The disparities are a little clearer regarding sequential write speed, particularly with the declining small capacities.
The 980 Pro, on the other hand, provides 4K random read and write speeds faster than Rocket Plus up to 30%. There is no doubt that the 980 Pro will be a more viable option for higher-end workstation setups that transfer large amounts of files on a daily basis. But with the high TBW (Total Terabytes Written) numbers of Sabrent Rocket 4.0 Plus. You can simply say that the Rocket 4 Plus is going to last longer as compared to the 980 Pro.
It states that the two products are very close, but Sabrent comes out slightly ahead. A fraction of a millisecond here and there may not seem like much, but when a drive is processing thousands or more files a second, it adds up. However, it lacks 256-bit encryption which could be a great turning point in this comparison.
Reliability and Warranty
The manufacturer's warranty is very close to the customer and lasts 5 years, with the same amount of allowed writing (TBW). The Rocket 4 Plus or 980 Pro each comes with only the SSD hard drive. However, the two manufacturers provide very useful tools for management and cloning on their websites as downloads.
Price
When choosing an SSD, budget is an important consideration. However, it is important to note that even for the same SSD, prices can vary for many differences such as capacities, performance, etc.
The price of both these SSDs is almost similar. If you want to know the more different prices of different storage sizes, you can visit amazon or its official site.
Which One You Should Buy?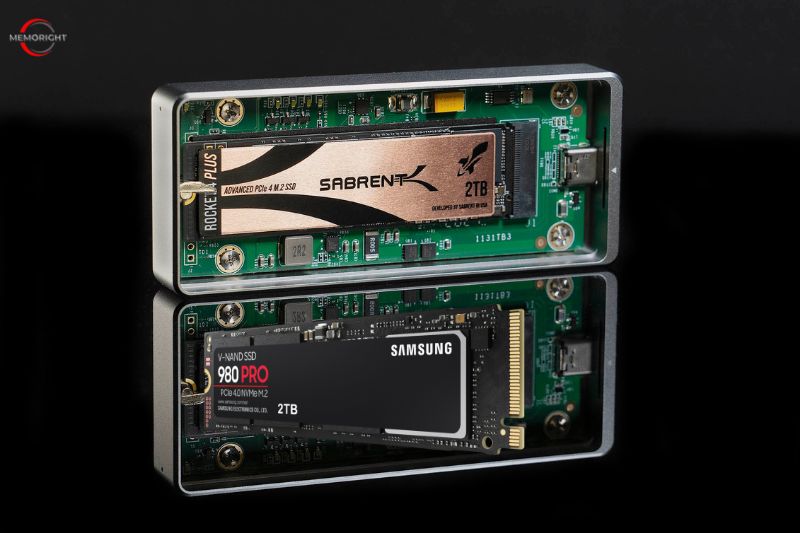 Choosing between the Samsung 980 Pro and Sabrent Rocket 4 Plus is no easy feat, as they both offer excellent performance and value for money. In the past, Sabrent held the edge in terms of performance and value, but Samsung has now caught up and is just as competitive. In fact, without the boost offered by the new Rocket 4 Plus, Samsung would be the clear leader in terms of performance.
We would suggest going to the 980 Pro if the price of both is the same in your region. This applies to those who want to use the AES-256 Encryption on 980 Pro. Otherwise, Rocket 4.0 Plus is an equally fast and capable SSD. So, if you are OK with the price of the 980 Pro, you can go for it. However, there are also no problems with the Sabrent Rocket 4.0 Plus except for the encryption part.
Finally, you can decide between the Samsung 980 Pro and Sabrent Rocket 4 Plus with a clear conscience based on the current prices and your own preferences.
FAQs
Does the 980 Pro have a DRAM cache?
One of its most popular current options is the 980 Pro, a PCI-Express 4.0 NVMe SSD that uses the latest generation of LPDDR4 DRAM cache, the latest generation Samsung Elpis controller, high-quality TLC NAND Flash memory, and includes an SLC cache for added measure.
Is the Samsung 980 Pro faster than the 970 Evo Plus?
Samsung 980 PRO is faster than Samsung 970 EVO Plus in maximum sequential read, maximum sequential write, maximum random read, and maximum random write. In terms of TBW durability, MTBF reliability, and warranty coverage, the two SSDs are the same.
Is NVMe faster than SSD?
NVMe SSDs are about 3-4 times faster than SATA SSDs with read-write speeds of up to 2000MB/s compared to only 600MB/s of SATA SSDs. Unlike SATA and SCSI, NVMe doesn't need a controller to communicate with the CPU, making communication with the CPU even faster.
Is a heatsink necessary for SSD?
Because of its small size, the M. 2 SSD requires cooling since it uses a lot of power due to its high-performance features. Because of this, a heatsink is oftentimes required when operating the M. 2 SSD card.
Conclusion
In conclusion, this post has demonstrated the distinctions between the Rocket 4 Plus vs Samsung 980 Pro SSD in 5 cases. We think that you can easily know which SSD hard drive is better for you. And if you have any different ideas for Rocket 4 Plus SSD and 980 PRO, you can take a look at other product comparisons here.