Download with app
We now provide an app for Instagram video Download. It is fast, easy, with no watermark and HD quality
Instagram Photo Downloader Free with MemoRight
Learn how to download Instagram photos on your desktop and iPhone with these simple steps. There are thousands of daily posts on Instagram with hundreds of thousands of likes per day and of course a lot of Instagrammer want to save their posts to their personal computers. Knowing that need, here is MemoRight Instagram photo Downloader to help you save instagram photos. Simple and easy to use, unlimited downloads. Whatever posts you like, we can help you download them.
MemoRight is an Instagram (IG) photo downloader that helps you to save images from Insta easily, completely free and safe.You are not required to install any software on your computer or mobile phone, all that you need is a Instagram photo link, and all the processing is done on our side so you can be one click away from downloading image to your devices.
How to Download Instagram Photos on Desktop using MemoRight ?
Want to save Instagram photos on your desktop? Follow these simple steps to download any photo on Instagram in just a few clicks.
Step 01
Open the Instagram post with a picture you want to save.
Step 02
Copy the link of the Instagram publication.
Step 03
The photo will immediately be saved to the Downloads folder.
How to Download Instagram Photos on iPhone ?
Note: Instagram Photo Download only works if your iphone 6s (6s Plus) or later. Follow these simple steps to save any Instagram photo to your Safari downloads.
Step 01
Open Instagram and find the post with the picture you want to download.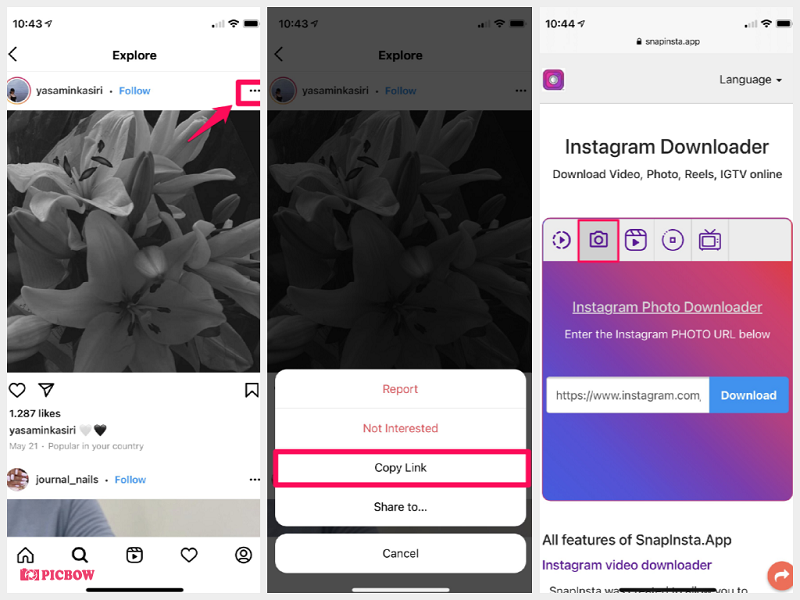 Step 02
Tap on the three dots in the top right corner of the post.
Step 03
Choose 'Copy Link' from the options that appear
Our tools are designed to help you download videos and images uploaded by your own account. We reserve the right to refuse to provide our services if you use our tools to invade the privacy and material rights of others.
Read our full Terms of Service
here
FAQ
No, you cannot download photos from private accounts that you don't follow.
Yes, you can use any of the methods provided in this article on an Android device.
As long as you are not using the downloaded photos for commercial purposes and are only using them for personal use, there are generally no legal issues.
Yes, some of the methods provided in this article allow you to download multiple photos at once.
Yes, you can, just copy the link of the post and paste it into the box on our website, then save it, for more information: Download from Insta on Android.
Yes, there are methods available for downloading Instagram stories as well.