Western Digital is a leading manufacturer of hard drives and data storage devices. It designs, manufactures, and sells data technology products, including storage devices, data center systems, and cloud storage services. They offer both mechanical and solid-state drive storage devices. In addition, it has Blue, Black, Red, Green, Purple, and Gold brands for mechanical drives. In this blog, we will focus on two different Western Digital brands hard drives: Western Digital Red vs Blue. 
Overview of WD Red and WD Blue
WD Red Hard Drive
WD Red hard drives are designed for NAS solutions and come with large storage sizes and a red cover, as shown in the image. They offer a wide range of storage options for customers who want to build a NAS solution. Although WD Red hard drives are not designed for gaming, they are worth mentioning because of the popularity of home-based cloud storage, SOHO environments, RAIDs, and server investments. The WD Red is built for up to 8-bay NAS systems and packs the power to store your precious data in one powerhouse unit. It can improve the efficiency and productivity of your computer.
WD Blue Hard Drive
WD Blue is a kind of PC hard drive with the Blue cover as the following image shows. Designed as primary drives in notebooks and external enclosures, this WD Blue hard drive comes with a large hard drive capacity that allows you to store high-resolution photos, 4K videos, music collections, and other important files. This hard drive also features data density, which indicates that the travel requirement on the header is minimized and the seek time is also reduced. So, the transfer rate would be increased.
Relate Article: Western Digital Blue vs Green SSD: What's the Difference and Which One Is Better?
Technical Data Comparison Differences
| | | |
| --- | --- | --- |
| | WD Red | WD Blue |
| Capacity | 240GB, 480GB, 1 TB, 2TB | 250GB, 500GB, 1TB, 2TB, 4TB |
| Form Factor | 2.5"/7mm cased, M.2 2280 | 2.5″/7mm cased, M.2 2280 |
| Transfer rate | 180MB/s | 175MB/s |
| Interface | SATA 6 Gb/s | SATA 6 Gb/s |
| Sequential read | 545 MB/s | 560 MB/s |
| Sequential write | 530 MB/s | 530 MB/s |
| Warranty Period | 3 years | 5 years |
Western Digital Red vs Blue: What Are the Differences and Which One Is better?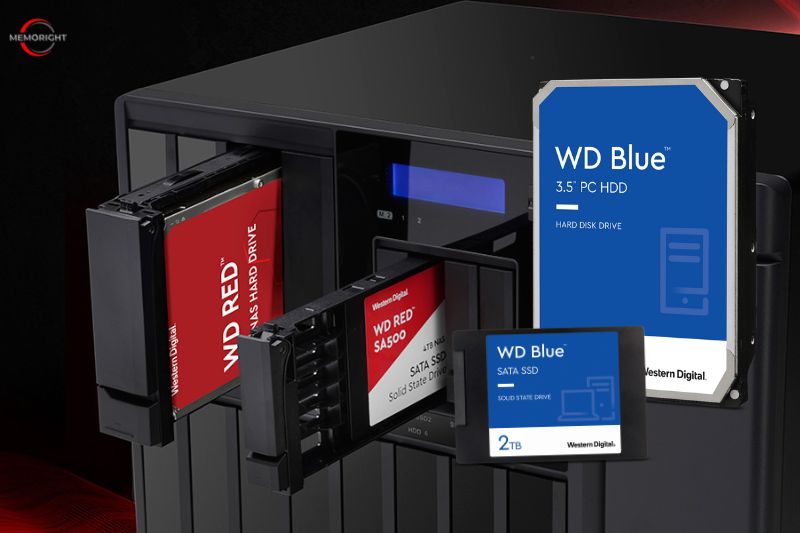 Form Factor & Interface
When it comes to form factor, both of them provide the same choices with SATA 6 Gb/s interface and 2.5-inch, 3.5-inch, and M.2 2280 form factor.
Capacity
Hard drive capacity is a key factor when selecting a hard drive. So, the second difference between WD Red and WD Blue is the hard drive capacity. Both WD Red and WD Blue come with large hard drive capacity, but there are also some differences due to different form factors. You can look at the following chart to know the hard drive capacity differences.
From the above chart, you can learn that both of them provide large storage sizes, allowing you to save a lot of files, high-resolution photos, 4k videos, etc. But the WD Blue hard drive provides more hard drive capacity ranges, which will satisfy more different demands of different people and can be used in more situations. In particular, with small sizes such as 500GB or 1TB, it would be more suitable for common PC users.
Performance
The transfer rate is the third distinction we want to make between WD Red and WD Blue. Western Digital's official website states that the WD Red can transmit data at a rate of up to 180MB/s (6TB model). WD Blue can transport data at a rate of up to 175 MB/s (6TB model).
Since the magnetic heads move in the radial directions of the platters and the platters rotate at a high speed of several thousand revolutions per minute, RPM (Revolutions per minute) will also have an impact on the hard drive's performance. The magnetic heads can then be placed on the platter at a specific location for reading and writing data as a consequence.
However, the RPM of WD Red and WD Blue hard drives varies. All 2.5-inch WD Blue and WD Red models have hard drives with a 5400 rpm class. There is a little difference with the 3.5-inch WD Blue hard disk. The WD Blue 500GB and 1TB variants have 7200 rpm classes, whereas the left model has 5400 rpm classes.
Therefore, it is clear from the facts above that there are no significant variations between the transfer rates of WD Red and WD Blue hard drives. Using MiniTool Partition Wizard, you can also evaluate the hard drive's performance.
Reliability and Warranty
WD Red hard drive comes with a limited warranty of 3 years, unlike Blue which comes with 5 years warranty. In another case, it can monitor the health of the drive, which comes in a free downloadable WD SSD dashboard.
Price
You can find the WD Red here where there seems to always be consistent availability. Delivery is always super speedy from Amazon too, with the option to buy it today and receive it tomorrow (state dependent of course). The WD Blue can be found here, also from Amazon. The availability is also always great, and in all the time we have been researching the two products, this has always been in stock. For the features and capabilities, the WD Blue has, we think the price is fantastic value for money!
Which One to Choose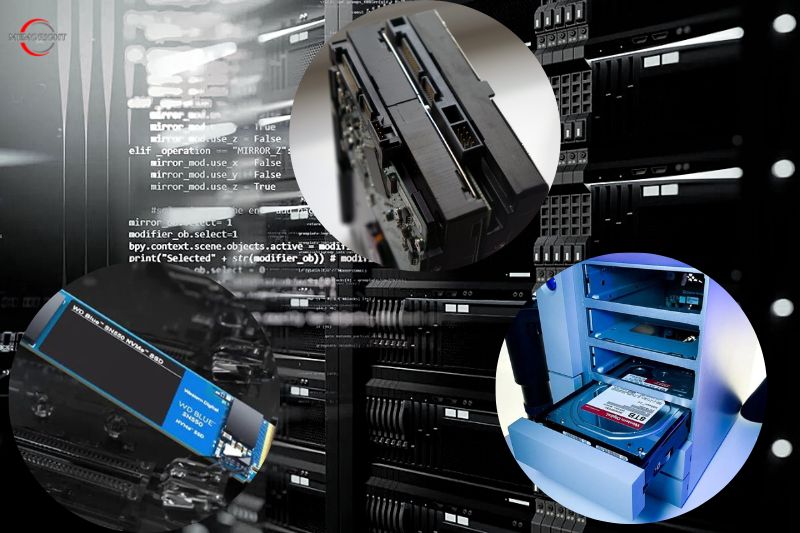 By now, you've presumably realized that Western Digital is a company that is quite knowledgeable in its field. The WD Red and WD Blue SSD products are both unquestionably of the highest caliber and perform at their intended functions.
While it is difficult to decide which is superior to the other on its own, it is easier to look at them from the gaming perspective and select the SSD that is most compatible with a gaming laptop right away. For us, the WD Blue consistently wins out when the two are pitted against one another.
While the WD Red is undoubtedly a great little device, especially for running those tenacious programs like video editing, photo rendering, and much more, the WD Blue just edges it out since it is somewhat better at managing numerous demanding programs like games.
The two have fairly comparable fundamental specs, but with more investigation and study, it becomes clear why the WD Blue would be a better choice for your gaming requirements.
FAQs
What is Western Digital Green for?
Lightweight and shock resistant, WD Green SSDs use no moving parts and help keep your data safe from loss in the case of accidental bumps and drops. Less Power. More Play. WD Green SSDs are among the lowest power-consuming drives in the industry.
Which WD SSD color is The Best?
WD Blue gives creators the power they need. WD Blue HDDs and SSDs are ideal for desktops, laptops, and all-in-one PCs with a variety of form factors and storage capacities.
Is WD Green SSD good for OS?
Yes, WD Green SSDs are a good option if you are looking for a reliable and fast SSD. It offers a read speed of up to 545MB per second, so things like launching a program or booting up your system should be zippy fast.
Conclusion
In conclusion, this post has demonstrated the distinctions between the Western Digital Blue and Green SSD in 5 cases. We think that you can easily know which SSD hard drive is better for you. When choosing between the WD Red and WD Blue, keep in mind that the WD Red may seem like a better option because it's cheaper. But just remind yourself of the features and performance comparison and you'll quickly realize that the WD Blue is actually the better choice for you.