If you're looking to buy a solid-state drive (SSD), you may be wondering which brand is best. SanDisk and Samsung are two of the most popular SSD brands on the market. So, which one should you buy? SanDisk SSDs are known for their reliability and affordability. Samsung SSDs, on the other hand, offer faster speeds and more storage capacity. 
Ultimately, the decision of which SSD to buy depends on your needs and budget. We're going to have a look at the things you should take into account when trying to decide between SanDisk vs Samsung SSD.
SanDisk vs Samsung Overall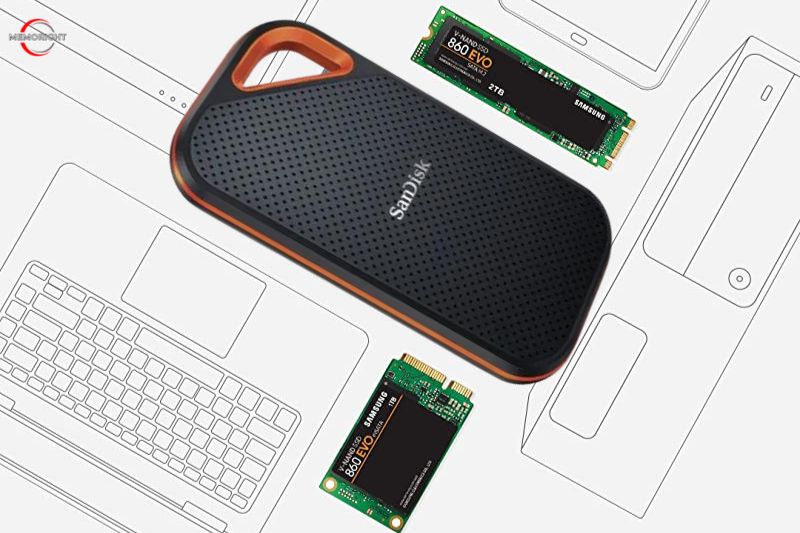 There are only minor differences between SanDisk SSDs and Samsung SSDs, but SanDisk SSDs are usually more durable. So if you'll be using your external SSD on the go, SanDisk might be the better option. However, both Samsung and SanDisk are well-known brands, and everyone probably has a preference for both of them. We're going to be looking at external storage here as opposed to internal, but the brands are leaders in both areas. Let's see which would be a better choice for you.
Samsung
The biggest company in South Korea, Samsung does business across a variety of industries, including chemicals, electronics, finance, and machinery. The SSD is associated with Samsung Electronics, a division of Samsung, the biggest producer of consumer electronics and technical components in South Korea and the biggest provider of information technology globally.
Samsung Electronics' core commercial initiatives are currently semiconductors, mobile communications, digital imaging, telecommunication systems, IT solutions, and digital applications. Microcontrollers, image sensors, and flash memory (including DRAM and NAND) make up its primary semiconductor business.
In the RAM-related DRAM market, Samsung dominates the competition, with Hynix, Elpida (whom Micron had already bought), and Micron trailing behind with lower market shares. Samsung also holds the top spot in the NAND flash market (connected to SSDs), while Toshiba, Western Digital, Micron, and Hynix have lower market shares than Samsung.
Today's Best Samsung SSD deals
SanDisk
SanDisk Corporation is an American multinational corporation that develops and markets flash memory products. It was established in 1988. It manufactures a range of flash memory products, including a number of memory cards and USB flash drives.
SanDisk dominates the market for flash memory cards. Thanks to the whole flash memory chip processing system it has developed, SanDisk has also emerged as a major player in the SSD market.
However, on October 21, 2015, Western Digital said it would pay $19 billion to purchase SanDisk Corporation. The transaction was finalized on May 12, 2016, costing $16 billion. Therefore, the current SanDisk drives are made by Western Digital.
Today's Best SanDisk SSD deals
Samsung SSD vs SanDisk: Products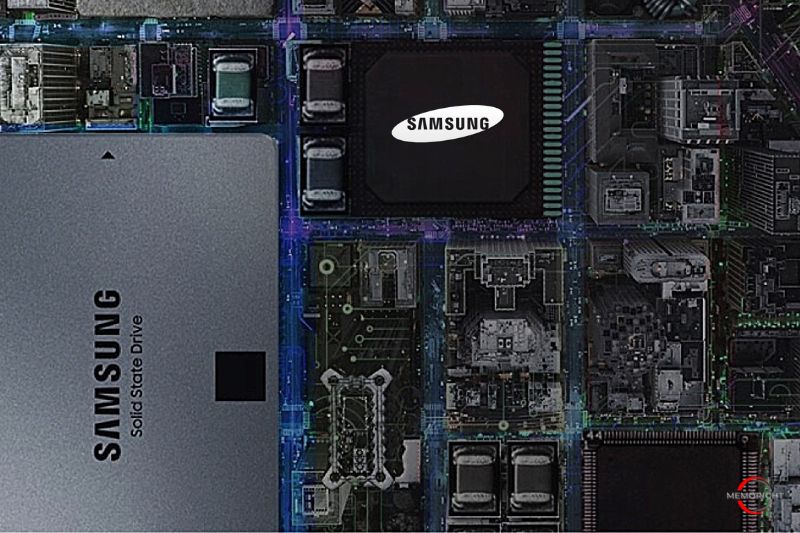 Let's take a look at the SSD products from both companies (just the consumer-class SSDs):
SanDisk's SSD product line:
Internal Drives: SanDisk SSD Plus, SanDisk Ultra 3D SSD, and SanDisk Extreme PRO M.2 NVMe 3D SSD.
Portable Drives: SanDisk Extreme SSD, SanDisk Extreme Portable SSD V2, SanDisk Extreme Pro SSD, and SanDisk Extreme PRO Portable SSD V2.
Samsung's SSD product line:
Internal Drives: 860 EVO, PRO, QVO; 870 QVO; 970 EVO, EVO Plus, PRO; and 980 PRO.
Portable Drives: X5, T5, T7, and T7 Touch.
Samsung T7 vs SanDisk Extreme PRO: Technical Data Comparison
SanDisk Extreme Pro Portable V2 SSD
Samsung T7 Portable SSD
Capacity

1 TB




2 TB




4 TB

500 GB




1 TB




2 TB

Dust and Waterproof
Rating

IP55

N/A

Host Connection

USB 3.2 Gen 2×2 (USB Type-C)




USB 3.2 Gen 2×2 (USB Type-A)

USB 3.2 / USB 3.1 Gen 2 (USB Type-C)




USB 3.2 / USB 3.1 Gen 2 (USB Type-A)

Inputs/Outputs

1 x USB 3.2 Gen 2×2 (USB Type-C)

1 x USB 3.2 / USB 3.1 Gen 2 (USB Type-C)

Power Source

USB Bus Power

USB Bus Power

Read Speed

Maximum: 2000 MB/s

Maximum: 1050 MB/s

Warranty

5 years

3 years

Write Speed

Maximum: 2000 MB/s

Maximum: 1000 MB/s
Samsung vs SanDisk SSD: What are the Differences?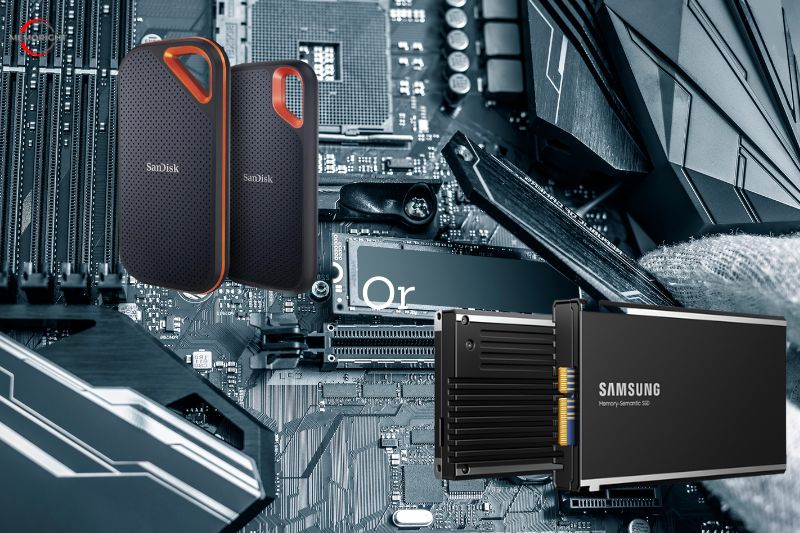 Design & Case
The first thing that you're going to notice with a new SSD is its shell or casing. This is actually pretty important, as it's going to be the main thing protecting your technology, which might have very important things on there. Both of these models are very similar to one another, so it's difficult to say which is best. However, the main way that we can set these two apart is by the design of their casing.
The SanDisk is designed to be able to take a lot of wear and tear. Whilst some of the casing is plastic, it's covered in rubber all around the edges of this model. While the Samsung model, its main focus is on being small and lightweight. It weighs only 51g, and it's definitely the better looking of the two. However, the casing isn't the most resilient, and even though Samsung says it can withstand some abuse, it's not as durable as the SanDisk Extreme.
Speed
The whole reason that we're using an SSD in the first place is that they have a faster read and write speed than other forms of storage. All this means is how quickly the SSD can open a file (read), and how quickly it'll save a file to it too (write). The difference in reading and write speeds between these two models is going to be negligible, and you probably wouldn't even notice a difference.
Whilst the SanDisk is stated to have about 550mb/s speeds whilst the Samsung has around 540mb/s, they're both likely to return between 400-450mb/s in reality with your device. Remember, this is only their optimal speed! So, there's really minimal difference between the two here.
Hardware and Price
Samsung and Sandisk SSD create a great comparison in this section. The two actual performers have almost the same hardware and data protection capabilities. And You can set passwords to your files and folders from unwanted access.
Both have their pros and cons. When SanDisk drives tend to be more expensive than Samsung drives, but they're also generally faster and more reliable. Samsung drives, on the other hand, are often cheaper and more widely available. Ultimately, it comes down to personal preference. If you're looking for the best possible performance, SanDisk is probably the way to go. If you're more concerned about price, Samsung is worth considering.
Warranty
Another area where you can usually separate products is by their warranty. However, out of some special products, both of these brands offer a pretty comprehensive three-year warranty for all their SSDs, so there's really not much difference here either.
SSDs tend to be very reliable across the board. They should last you for a good 10 years if you take care of them, and by then, the warranty will have expired long ago.
FAQ
Who makes SanDisk SSD?
SanDisk was acquired by hard disk drive manufacturer Western Digital on May 12, 2016, for US$19 billion.
Why are SSDs so expensive right now?
As these SSDs move from being the latest release to the more commonplace technology, you will probably see some drop in cost. For now, the development and manufacturing of these new devices need to be paid for. Therefore, the price is going to remain high until those costs start to go down.
Conclusion
There's not much to choose between the Samsung SSD and SanDisk. However, we would opt for the SanDisk model due to its design. It's likely to be more durable in the long run. Both of these models are pretty similar to one another. They're both marketed at the same price and they both have very similar read and write speeds.
But in terms of design, we much prefer the SanDisk for traveling with. And in terms of reliability, SanDisk too as we've always used them – however, this is definitely a personal preference. Both of the models would likely be a good option, and it's up to you to pick your favorite.