The Samsung 980 vs 980 Pro are both high-end SSDs that offer great performance. The 980 Pro is the faster of the two, with a higher top speed and lower latency. However, the 980 is still a very fast SSD and offers good value for money.
So how does the Samsung 980 compare with Samsung's own higher-end PCIe 4.0 compatible SSD, the Samsung 980 Pro? Is the later model worth the extra investment? Let's check their specifications and real-world benchmarks and see which hard drive is worthy to purchase.
Samsung 980 vs 980 PRO Overview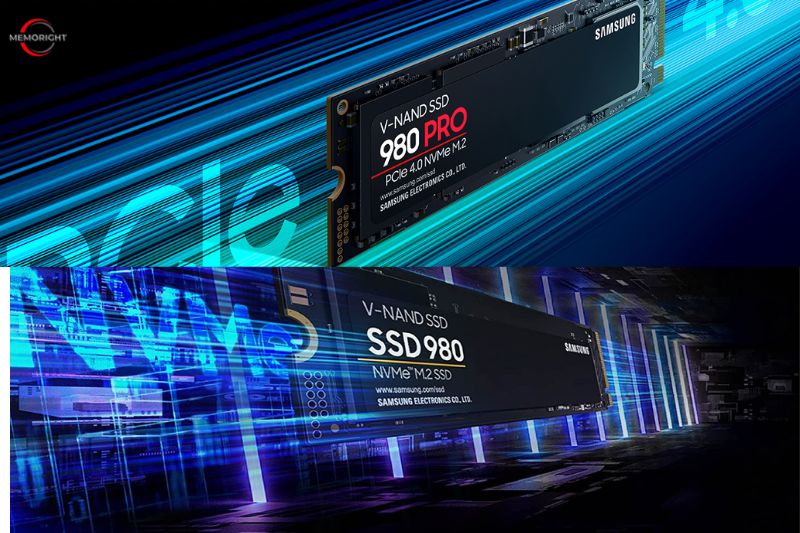 Samsung 980
The SSD 980 is an entry-level NVMe SSD, using TLC NAND with a DRAMless controller. This makes it a new class of product for Samsung in the retail market, one it has never produced before. This kind of drive, with TLC and without DRAM, is already prevalent in the market from other turn-key solution vendors, and this type of drive has been quite popular with OEMs: it allows them to advertise an NVMe SSD without paying the cost of a high-end drive.
Samsung 980 PRO
The 980 PRO was first previewed in January at CES as Samsung's first consumer SSD to support PCIe 4.0, but with very little technical information. No release date was announced but Samsung's PR said to expect more information in Q2. The big surprise is that the 980 PRO will apparently be using TLC NAND, a first for Samsung's PRO models. Samsung has been the last holdout offering high-end MLC-based SSDs while the rest of the SSD industry has moved on to TLC (and QLC), for both consumer and enterprise markets.
The switch from MLC to TLC means the rated write endurance of the 980 PRO will be half that of the 970 PRO and equivalent to the TLC-based 970 EVO and EVO Plus. The upside is that the 980 PRO may be more competitively priced against other high-end consumers NVMe SSDs.
Technical Data Comparison
Samsung 980
Samsung 980 Pro
Interface/Form Factor
x4 PCIe 3.0/NVMe/M.2 2280
x4 PCIe 3.0/NVMe/M.2 2280
Storage Sizes
250 GB, 500 GB, 1 TB
250 GB, 500 GB, 1 TB, 2 TB
Sequential Read
2,900 MB/s, 3,100 MB/s, 3,500 MB/s,
6,400 MB/s, 6,900 MB/s, 7,000 MB/s, 7,000 MB/s
Sequential Write
1,300 MB/s, 2,600 MB/s, 3,000 MB/s
2,700 MB/s, 5,000 MB/s, 5,000 MB/s, 5,100 MB/s
4KB Random Read
230,000 IOPS, 400,000 IOPS, 500,000 IOPS
500,000 IOPS, 800,000 IOPS,

1,000,000 IOPS, 1,000,000 IOPS

4KB Random Write
320,000 IOPS, 470,000 IOPS, 480,000 IOPS
600,000 IOPS, 1,000,000 IOPS,

1,000,000 IOPS, 1,000,000 IOPS

Bus Type
PCIe 4.0 x4 NVMe 1.4
PCIe 4.0 x4 NVMe 1.3c
Controller
Samsung Pablo
Samsung Elpis
NAND Type
Samsung 128L 3D TLC
Samsung 128L 3D TLC
Power Consumption
5.3 W Max
7.2 W Maximum
TBW
150 TBW, 300 TBW, 600 TBW
150 TBW, 300 TBW, 600 TBW, 1200 TBW
Warranty
5 years
5 years
Price
$50, $70, $130
$90, $150, $230, $430
As you can see, the Samsung 980 Pro is much faster than the 980 due to the interface. The Samsung 980 Pro is able to utilize all 4 lanes of PCIe 4.0, resulting in data read speeds of up to 7 GB/s. The Samsung 980, on the other hand, only uses 4 lanes of PCIe 3.0, limiting its bandwidth.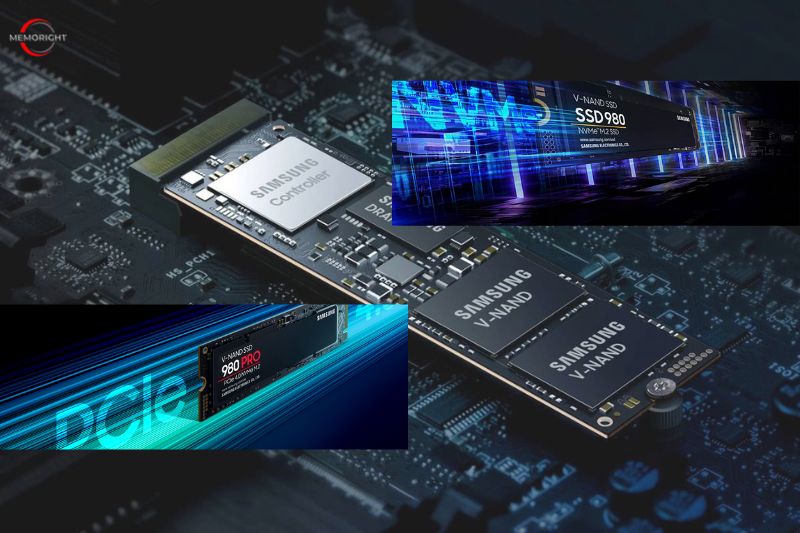 Notice: The maximum speed of 980 Pro will be available only on a PCIe 4.0 motherboard with a PCIe 4.0 supported CPU. It will work with the PCIe 3.0 motherboards as well but the speed will be bottlenecked as per PCIe 3.0 interface specifications.
Benchmark Score: Samsung 980 1TB vs Samsung 980 Pro 1TB
| | | |
| --- | --- | --- |
| Parameter (Avg.) | Samsung 980 1TB | Samsung 980 Pro 1TB |
| Sequential Read | 1571 MB/s | 2615 MB/s |
| Sequential Write | 1943 MB/s | 2913 MB/s |
| Random 4KB Read | 57.4 MB/s | 75.5 MB/s |
| Random 4KB Write | 158 MB/s | 187 MB/s |
| Deep Queue 4K Read | 1206.2 MB/s | 1,863.1 MB/s |
| Deep Queue 4K Write | 958.7 MB/s | 1,354.6 MB/s |
| Game Scene Loading | 9.37 Seconds | 9.63 Seconds |
| Windows 10 (Intel i5 8th Gen) | Ready to use in 27 Seconds | Ready to use in 19 Seconds |
| Google Chrome | Within 4 Seconds | Within 3 Seconds |
| Adobe Photoshop | 19 Seconds | 15 Seconds |
| PCMark 10 Quick System Score | 3,153 Points | 2,682 Points |
| PCMark 10 Full System Score | 2,865 Points | 2,637 Points |
The Samsung 980 Pro outperforms the competition by a wide margin, with peak sequential read and write speeds that are double those of even the best PCIe Gen 3 compatible SSDs on the market. Of course, in real-world applications, the differences are not quite as impressive, but the Samsung 980 Pro still outperforms the 980 by upwards of 46% to 57%.
The 980 Pro falls short of its advertised specifications for peak 4K random read and write speeds, only reaching 50% to 60% of the promised speeds. It only leads the Samsung 980 by 21% and 25% respectively in this area. Also, when it comes to gaming applications, the difference in loading times is only 3%. This is to be expected to some degree, as even SATA III SSDs have been shown to rival, or even surpass, the speeds of the NVMe storage drive in this matter.
The Samsung 980 Pro is the more responsive hard disk for trace-based benchmark programs like PCMark 10, but not by a large margin. The Samsung 980 Pro outperforms the 980 by 18% in the PCMark10 Quick System score, which is designed to mimic more typical, less hardware-intensive applications, but only by 9% in the Full System score, which measures performance for higher-end usage.
The Most Popular Comparisons: Samsung 980 PRO vs 980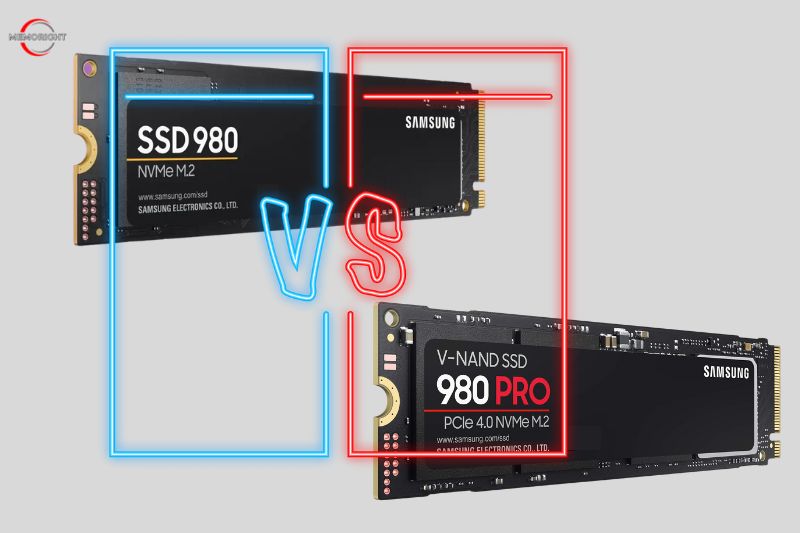 Form Factor and Interface
Both the Samsung 980 Pro and the Samsung 980 come with a PCIe and Samsung's TLC 3D NAND interface. But there is a difference.
The Samsung 980 uses the PCIe 3.0 x4 and has 128 NAND layers, whereas the Samsung 980 Pro uses the PCIe 4.0 x4 and has 136 NAND layers in some variants. In this case, the Samsung 980 Pro has the edge of using the latest version.
Notice: Not all the motherboards are equipped with slots compatible with PCIe 4.0. So, when you use the Samsung 980 Pro on a PCIe 3.0 slot, it will run at the speeds of PCIe 3.0.
The same goes for the Samsung 980. If you run it in a PCIe 4.0 slot, it will run according to its capabilities rather than having a boost.
Capacity
The two drives' storage capacities range from the user-friendly 250 GB up to the 500 GB and 1 TB models. While the Samsung 980 Pro includes a 2 TB storage size, missing from the 980, and its sequential read speeds are at least double that of its PCIe Gen 3 cousin.
The Samsung 980 Pro is a great SSD, providing more capacity than the 980 on the 2TB models. However, the 980 Pro costs more money than the 980, so make sure you factor that into your decision before purchasing.
In case, there are many options for customers. If you intend to get a Samsung 980 SSD just to boost the operating system's speed, then you can rely on 250 GB or 500 GB. Though the higher variants are good enough and get you effective R/W speed, they're costlier ones.
Performance
In this case, the Samsung 980 Pro's read and write speeds are significantly faster than the Samsung 980, with sequential write speeds up to 107% faster. It's 4K random read and write speeds also seem to confirm PCIe 4.0's promise of double throughput, surpassing the 980's advertised metrics by up to 118%.
There is no doubt that the 980 Pro will be a more viable option for higher-end workstation setups that transfer large amounts of files on a daily basis. This is because the V-NAND flash type and endurance levels are identical for both models, and though the 150 to 600 Terabytes Written (TBW) values are more than enough for an SSD marketed for everyday PC builds and gamers, these metrics may be insufficient for workstations that transfer large amounts of files on a daily basis.
The reason is that better read and write speeds will ensure better load times in terms of games. Moreover, it will ensure faster operations to some extent.
Reliability and Warranty
Samsung's 5-year warranty backs both 980 and 980 Pro. It is important to emphasize that Samsung's warranty doesn't cover neglect, unauthorized repair or modification, or product misuse.
Price
We see that the Samsung 980 Pro is already experiencing price cuts of up to 20% at its 500 GB and above storage sizes. As PCIe Gen 4 SSDs become more affordable, their PCIe Gen 3 equivalents will also see price reductions. The 1 TB Samsung 980 Pro currently costs $130, making it around 40% more expensive than the average PCIe Gen 3 SSD.
However, the 980 PRO is also appropriate for power users. Samsung 980 is fantastic for people who do not need very high read/write data rates.
Which Is The Best SSD: 980 vs 980 PRO?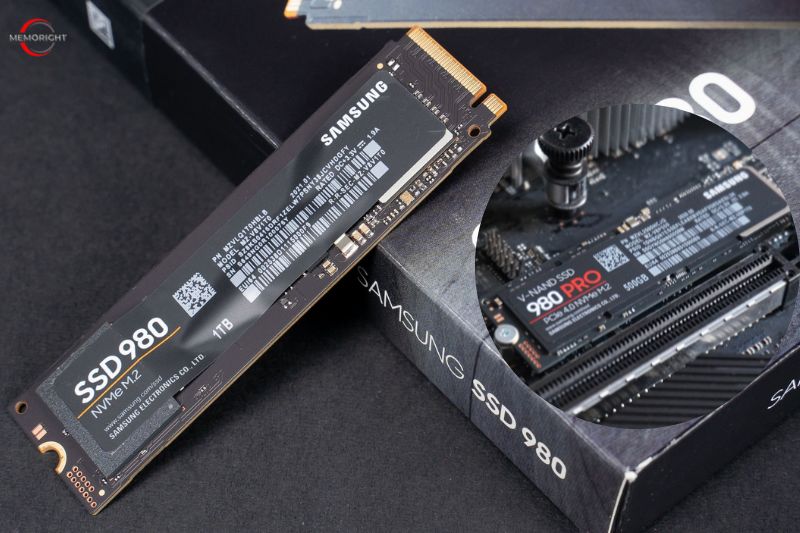 The Samsung 980 Pro is not worth its price compared to other, cheaper PCIe 3.0 bus-type storage drives for most users who are looking for an SSD for browsing, general productivity, content creation, or gaming. However, the Samsung 980 PRO provides great overall value, as it has respectable transfer speeds and is very responsive for all types of applications.
So, it is not easy to point out the perfect one from both because the differences are huge. One comes in the budget NVMe category and the second one is a professional product. So, just look at your needs and budget as well as whether you want that high data read/write speeds from the 980 Pro. However, if you have enough budget to spend, just go for 980 Pro. You will never regret your decision.
Notice: Make sure you have a PCIe 4. motherboard with an available PCIe 4.0 M.2 slot for your 980 Pro. Read information about PCI-e Gen 3 vs PCI-e Gen 4 here.
FAQs
Is the 980 Pro better than the SN850?
Samsung 980 Pro is a better Gen 4 NVMe SSD as compared to the WD Black SN850. The two main reasons are its MLC NAND and Encryption. The SN850 lacks any kind of encryption and has TLC NAND which is less reliable than the 980's MLC NAND Flash.
Is Samsung 980 Pro suitable for the PS5?
The Samsung SSD 980 PRO PCIe 4.0 NVMe is a great option if you are a PS5 owner looking for a good and reliable SSD to expand the storage on your console. It has an affordable price tag even if you wish to double your PS5 storage with 980 Pro 1TB.
Does Sabrent make good SSDs?
The Sabrent Rocket 4's real-world performance is surprisingly good, even when compared to the top dogs. If you're looking for a cheaper PCIe 4 option, or an SSD that would pair nicely with your PlayStation 5, this might be a good choice.
Conclusion
In conclusion, this post has demonstrated the distinctions between the Samsung 980 SSD vs Samsung 980 PRO SSD in 5 cases. We think that you can easily know which SSD hard drive is better for you. And if you have any different ideas for 980 and 980 PRO, you can take a look at other product comparisons here.