In 2023, the choice between the Crucial P5 vs P5 Plus SSD will be crucial for many computer users. The two drives are very different in terms of performance, with the Plus offering significantly better speeds. However, the P5 is more affordable and may be the better option for those on a budget. Both are great options, but what's the difference between them? and which one is right for you? Follow this blog to get more information.
Overview of P5 and P5 Plus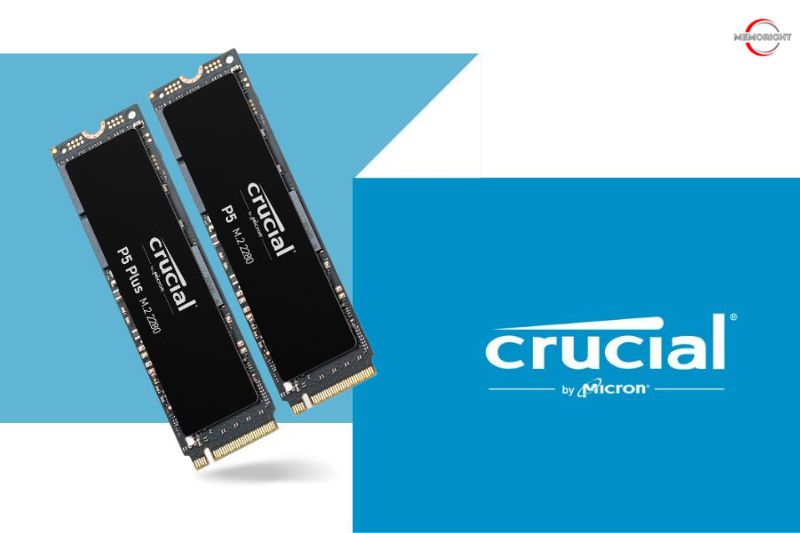 Crucial P5
Crucial's P5 has been coming along and check's almost all the boxes for a high-end enthusiast-class PCIe 3.0 x4 NVMe SSD today. Crucial's P5 is equipped with some serious hardware, including Micron's third-generation, 96L TLC NAND flash and a brand-new, proprietary six-core NVMe controller, which helps it achieve impressive performance numbers but also fully encrypts the data that is stored.
It not only functions effectively, but it also has the appropriate appearance. The P5 was developed by Crucial with a blacked-out appearance to fit into any build for both pros and gamers. Following this blog "PCIe 3.0 vs PCIe 4.0: Which Model Worth Upgrading in 2023?" to get
Crucial P5 Plus
The P5 series reaffirmed our view that Crucial is a brand that can deliver excellent value. The P5 came in capacities up to 2TB, with decent performance and a long lifespan at higher capacities. After P5, Crucial announced the new P5 Plus, it initially didn't seem like a dramatic change. Using a new controller to support PCIe 4.0 and changing the NAND specification isn't a guarantee of a better user experience.
Not to be cynical, but these changes could have been good or bad. Because across almost all storage makers, we've seen unfortunate revelations about NVMe drives that have been altered to reduce cost, negatively impacting performance.
Thankfully the Crucial P5 Plus hasn't been altered in a way that makes it worse than the P5 it replaces, and Crucial did make it a new part number to differentiate it entirely. But we need to say that Crucial reserves the right to change the specification of their products at any time, as most makers do.
Crucial P5 vs Crucial P5 Plus – Technical Data Comparison Differences
Category
Crucial P5
Crucial P5 Plus
Capacity
250GB, 500GB, 1TB, 2TB
500GB, 1TB, 2TB
Form
M.2 2280
M.2 2280
NAND
64L TLC for 250GB, 500GB

Micron 96L TLC for 1 TB, 2TB

176L 3D TLC
Controller
Crucial NVMe Architecture
Micron DM02A1
Interface
PCIe 3.0 x4 NVMe 1.3
PCIe 4.0×4 NVMe 1.4
Cache (DRAM)
1GB per 1TB of NAND
1GB LPDDR4 (1TB)

2GB LPDDR4 (2TB)

Durability
150 TBW

300 TBW

600 TBW

1200 TBW

300 TBW

600 TBW

1,200 TBW

Read speed
3,400 MB/s
6,600 MB/s
Write speed
3,000 MB/s
5,000 MB/s
Encryption
Hardware-based – 256-bit AES
Reliability (MTTF)
1,800,000 hours
2,000,000 hours
Warranty
5 years
5 years
Crucial P5 vs P5 Plus: What's the Difference?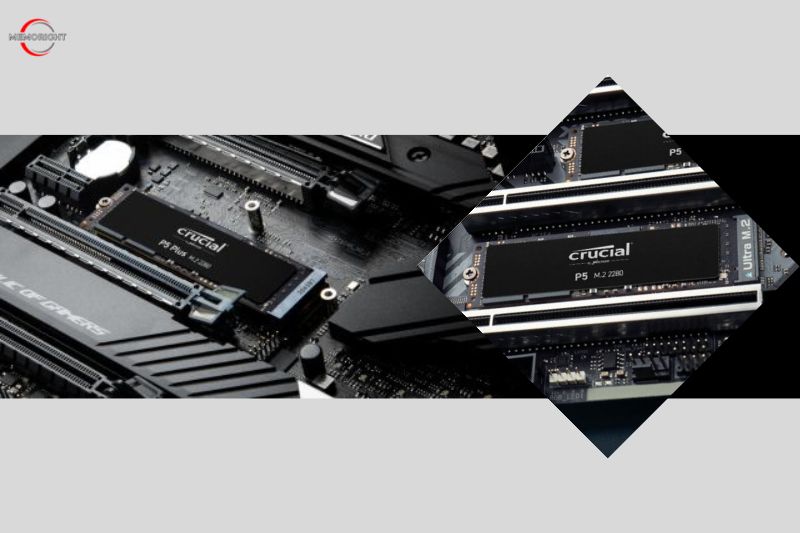 Form Factor and Interface
P5 Plus and P5 conform to the M.2 form factor and more specifically the 2280 variant. The only noticeable difference from the externals is that the P5 uses PCIe Gen3 NVMe while the P5 Plus uses PCIe Gen4 NVMe. The latter will naturally blend into any motherboard much more easily – though, many motherboards nowadays usually come with their own M.2 heatsinks which will cover the drive anyway.
Capacity
Crucial P5 NVMe SSDs include 4 different variants from 250GB to 2TB, while P5 Plus just provides 3 options: 500GB, 1TB, 2TB. The Crucial brand hasn't yet introduced a higher variant other than 2 TB.
In case, if you intend to get a Crucial NVMe SSD just to boost up the speed of the Operating System, then you can rely on 250 GB or 500 GB. Though the higher variants are good enough and get you effective R/W speed, they're costlier ones.
Performance
When you compare the same capacities, the 500 GB, 1 TB, and 2 TB versions of the Crucial P5 Plus are 3200 MB per second faster, or 94.12% faster, than the 500 GB, 1 TB, and 2 TB versions of the Crucial P5 at sequential random read speed.
As for maximum sequential writing, the 500 GB Crucial P5 Plus is 600 MB per second faster, or 20% faster, than the 500 GB Crucial P5.
The 1 TB and 2 TB versions of the Crucial P5 Plus are 2000 MB per second faster, or 66.67% faster than the 1 TB and 2 TB versions of the Crucial P5.
Warranty
Another area where you can usually separate products is by their warranty. However, Crucial offers a pretty comprehensive five years warranty for all their SSDs, so there's really not much difference here either.
SSDs tend to be very reliable across the board. They should last you for a good 10 years if you take care of them, and by then, the warranty will have expired long ago.
Price
The P5 Plus is the clear pick at 500 GB because it presently costs around $15 more per, respectively, and offers significantly better overall performance. The double difference between the Crucial P5's 1 TB and 2 TB prices is pretty significant, especially because other PCIe Gen 3 solutions are readily accessible for the same or even less money and will perform as same as Crucial P5 in nearly every parameter.
When it comes to price, Crucial P5 Plus SSDs are slightly more expensive than Crucial P5 SSDs. However, the Crucial P5 Plus is also appropriate for power users. P5 is fantastic for people who do not need very high read/write data rates.
Which One Should You Buy: P5 Plus or P5?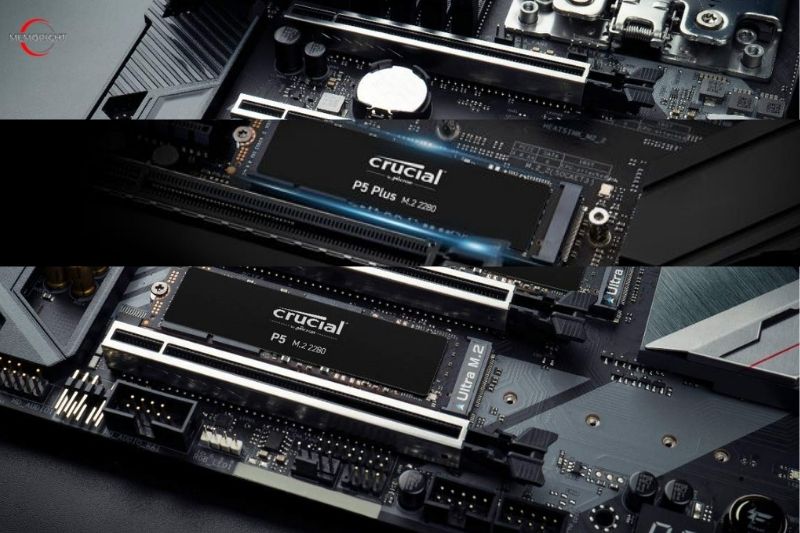 The Crucial P5 Plus is 94.12% faster than the Crucial P5 at sequential read speed. The Plus version is also 20% faster at the 500 GB capacity in addition to being 66.67% faster at the 1 TB and 2 TB capacities at maximum sequential write.
Furthermore, the P5 Plus is the only one of these two products to come with support for Device Sleep and TCG OPAL 2.0. While these two solid-state drives have the same endurance (TBW) rating and warranty length, the Plus version does have a longer reliability (MTTF) rating.
Overall, we recommend getting the P5 Plus due to the better read and write speed performances in addition to better reliability.
FAQs
Which is Better: Crucial P5 or P2?
Comparing both the Crucial NVMe SSDs, it's pretty clear that Crucial P5 SSDs are better than Crucial P2. The TBW of Crucial P2 Solid-State Drives is half of Crucial P5 SSDs. Hence, Crucial P5 SSDs are a more durable and better choice to invest in when it comes to endurance.
Is crucial P5 good for gaming?
Not only does it perform well, but it also has the looks to match. Crucial designed the P5 with blacked-out aesthetics so that it will blend into any build for gamers and professionals alike.
Does Crucial P5 have DRAM?
Beneath the label on the front of the drive are all of the major components. The Crucial P5 1TB is based on an in-house Micron controller. Also included an LPDDR4 DRAM package and two NAND packages. 1024GB of NAND is present onboard, leaving a small 24GB area reserved by the controller.
Conclusion
Although it's not the absolute fastest PCIe 4.0 SSD out there, the Crucial P5 Plus offers great value for money and outperforms its pricier competition in a number of benchmarks. The lack of a heatsink is a bit of a drawback, but the added cloning and management software more than makes up for it.
In conclusion, this post has demonstrated the distinctions between the Crucial P5 and P5 Plus SSD in 5 cases. We think that you can easily know which SSD hard drive is better for you. And if you have any different ideas for Crucial P5 and P5 Plus, you can take a look at other product comparisons here.