Crucial P2 vs Crucial P5 are two different types of solid-state drives (SSDs). Crucial P2 is an entry-level SSD, while Crucial P5 is a higher-end model. The main difference between the two is that Crucial P5 offers better performance and features than Crucial P2. For example, Crucial P5 has a higher maximum read and write speeds, as well as support for the NVMe interface. But how do you know which Crucial drive is right for your needs? This article will help you decide which one you should buy!
Overview of Crucial P2 vs Crucial P5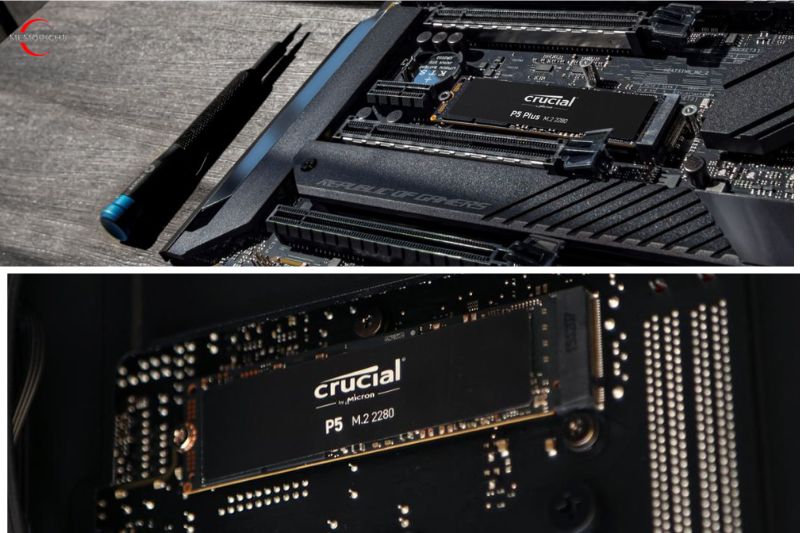 Crucial P2
A solid-state drive (SSD) from Micron called the Crucial P2 is an internal PCI Express (PCIe) NVMe M.2 SSD. It was released concurrently with the outstanding Crucial P5, which is currently our Editors' Choice for one of the top mainstream M.2 SSDs available right now. However, this drive struggled a little in UL's PCMark 10 benchmarks, but it still fared well enough in other tests to be worth a second look. It appears that the P5 is the considerably superior value of the two. In a world where that drive is available and only slightly more expensive, it's tough to imagine any circumstance other than 4K random speeds (or a substantial discount) where the P2 beats it.
Crucial P5
Crucial's P5 has been coming along and check's almost all the boxes for a high-end enthusiast-class PCIe 3.0 x4 NVMe SSD today. Crucial's P5 is equipped with some serious hardware, including Micron's third-generation, 96L TLC NAND flash and a brand-new, proprietary six-core NVMe controller, which helps it achieve impressive performance numbers but also fully encrypts the data that is stored. It not only functions effectively, but it also has the appropriate appearance. The P5 was developed by Crucial with a blacked-out appearance to fit into any build for both pros and gamers.
Crucial P5 vs
Crucial P2 – Technical Data Comparison Differences
| | | |
| --- | --- | --- |
| Model | Crucial P2 | Crucial P5 |
| Release Date | 2020 | 2020 |
| Storage Sizes | 250 GB, 500 GB, 1 TB, 2 TB | 250 GB, 500 GB, 1TB, 2 TB |
| Sequential Read | 2,100 MB/s, 2,300 MB/s, 2,400 MB/s, 2,400 MB/s | 3,400 MB/s |
| Sequential Write | 1,150 MB/s, 940 MB/s, 1,800 MB/s, 1,900 MB/s | 1,400 MB/s, 3,000 MB/s, 3,000 MB/s, 3,000 MB/s |
| 4KB Random Read | 170K IOPS, 95K IOPS, 295K IOPS, 295K IOPS | 210,000 IOPS, 390,000 IOPS, 430,000 IOPS, 430,000 IOPS |
| 4KB Random Write | 260K IOPS, 215K IOPS, 430K IOPS, 430K IOPS | 355,000 IOPS, 500,000 IOPS, 500,000 IOPS, 500,000 IOPS |
| Bus Type | PCIe 3.0 x4 NVMe 1.3 | PCIe 3.0 x4 NVMe 1.3 |
| Controller | Phison E13T | Crucial NVMe Architecture |
| NAND Type | Micron 96L TLC | Micron 96L TLC |
| TBW | 150 TBW, 150 TBW, 300 TBW, 600 TBW | 150 TBW, 300 TBW, 600 TBW, 1200 TBW |
| MTTF | 1,500,000 Hours | 1,800,000 Hours |
| Warranty | 5 years | 5 years |
| Price | $50, $60, $104, $200 | $55, $62, $120, $240 |
Crucial P5 vs P2: What's the Difference?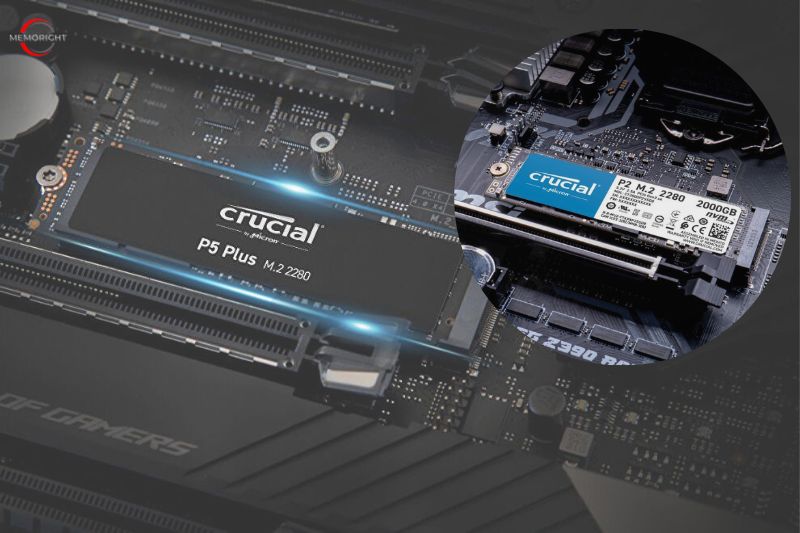 Form Factor and Interface
P2 and P5 conform to the M.2 form factor and more specifically the 2280 variant. The only noticeable difference from the externals is that P2 is presented with a blue/white sticker on the front side, while the P5 is adorned in a more sleek, black sticker. The latter will naturally blend into any motherboard much more easily – though, many motherboards nowadays usually come with their own M.2 heatsinks which will cover the drive anyway.
Capacity
Both Crucial P2 and Crucial P5 NVMe SSDs include 4 different variants: 250 GB, 500 GB, 1 TB, and 2 TB. The Crucial brand hasn't yet introduced a higher variant other than 2 TB. In case, if you're intending to get a Crucial NVMe SSD just to boost up the speed of the Operating System, then you can rely on 250 GB or 500 GB. Though the higher variants are good enough and get you effective R/W speed, they're costlier ones.
Performance
Check out the Read/Write for different variants of Crucial P2 and Crucial 5 NVMe SSDs. Here, the read speed of the Crucial P5 NVMe SSDs is the same "3,400 MB/s" for all the variants. Whereas, in Crucial P2 NVMe SSD, the Read Speed increases depending on higher variants.
The Crucial P2 is a DRAM-Less SSD. But, since it has the HMB (Host Memory Buffer), it can use the main system's memory for caching purposes. While the P5 has a faster DRAM cache which makes it really fast. The speed of both SSDs is different (i.e. Speed = P2<P5) even though both are working on the same x4 lanes of PCIe 3.0
Controller Type
Crucial P2 NVMe SSD is equipped with the Phison model E13T (Single-core, 8-Channel) Controller. Whereas, the Crucial P5 NVMe SSD has the Micron DM01B2 (Dual-Core R5 + M3, 8-Channel Controller).
Warranty
Another area where you can usually separate products is by their warranty. However, Crucial offers a pretty comprehensive 5 years warranty for all their SSDs, so there's really not much difference here either. SSDs tend to be very reliable across the board. They should last you for a good 10 years if you take care of them, and by then, the warranty will have expired long ago.
Price
Given how significantly the Crucial P5 beats the Crucial P2, it is only fair to conclude that it is worth the additional expense, at least for the majority of customers. The P5 is the clear pick at 250 GB and 500 GB because it presently costs only $5 and $2 more per, respectively, and offers significantly better overall performance. The 20% difference between the Crucial P5's 1 TB and 2 TB prices is pretty significant, especially because other PCIe Gen 3 solutions are readily accessible for the same or even less money and will perform far better than the Crucial P5 in nearly every parameter.
When it comes to price, Crucial P5 SSDs are slightly more expensive than Crucial P2 SSDs. However, the Crucial P5 is also appropriate for power users. P2 is fantastic for people who do not need very high read/write data rates.
Which One Should You Buy: P2 or P5?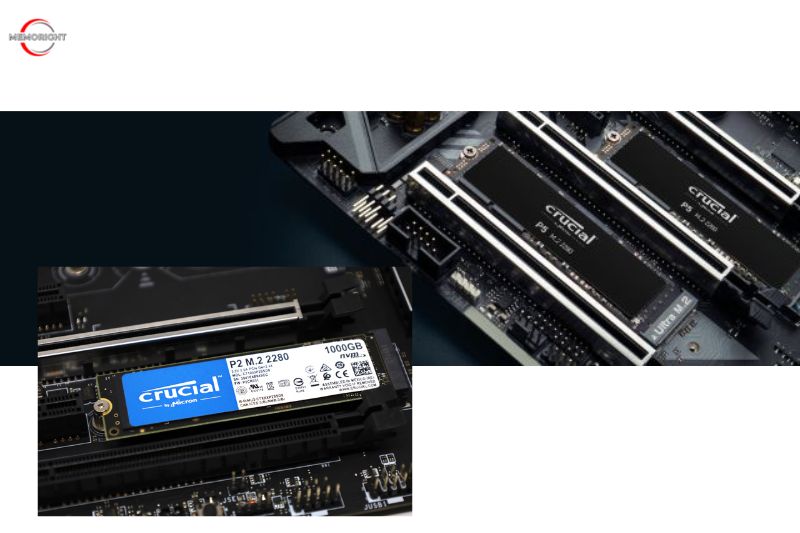 Investing in Crucial P5 NVMe SSDs won't be in vain. Though the price is a bit more compared to the Crucial P2 SSDs, it would give you a lot more advantages as well. Crucial P5 SSD serves with better Read/Write Speed (~3400MB/s read and ~3000MB/s write speed with >250GB storage variants) and more TBW, hence I would recommend you to settle down with a favorable variant of Crucial P5 NVMe SSD.
However, going for the P2 is also a good option when you have a tight budget but huge storage space requirement along with moderately fast NVMe speed (i.e. ~2000MB/s read and ~1000MB/s write).
FAQs Crucial P2 vs P5
What is the difference between P2 and P5 SSD?
The P2 and P5 storage drives are both PCIe 3.0-based M. 2 SSDs that promise to deliver good value and exceptional performance. The P2 is marketed towards the entry-level division, while the P5 is touted as the brand's fastest SSD to date claiming to hit 3500MB/s.
What is the difference between P1 P2 and P5 SSD?
Maximum Sequential Read Speed
At 3400 MB per second, the Crucial P5 NVMe M. 2 SSD has a much faster maximum sequential read speed when compared to the Crucial P1 NVMe M. 2 SSD (which tops out at 2000 MB per second) and Crucial P2 NVMe M. 2 SSD (which has a max of 2400 MB per second).
Is Crucial P5 TLC or QLC?
Overall, the Crucial P5 Plus is certainly attractively priced for a PCIe Gen 4 drive with quality TLC rather than cheap QLC flash memory, undercutting most if not all of the competition—and by a decent margin compared to the priciest drives like the WD Black.
Conclusion
In conclusion, this post has demonstrated the distinctions between the Crucial P2 and P5 SSD in 5 cases. We think that you can easily know which SSD hard drive is better for you.