Which external hard drive is right for you? We've rounded up the best external hard drives for Mac, broken down by category. Included are suggestions for a wide variety of budgets too, so you don't have to break the bank to store your data. If you don't fancy spinning metal and want extreme performance, you may want to check out our list of the best external SSD for Mac that you can buy.
Why Do You Need To Buy an External SSD For Your Mac?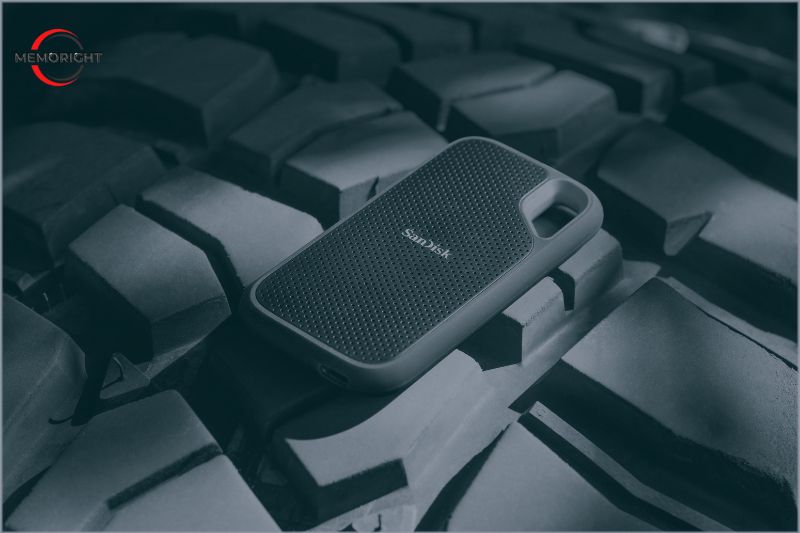 Buyers of Macs and MacBooks from Apple often complain about the storage options available for their purchases. Starter MacBook Air and MacBook Pro models offer as little as 256GB of storage, but upgrades to higher capacities can be expensive. A doubling of storage could cost a few hundred dollars while jumping from 512GB to the maximum 8TB capacity of a 14-inch MacBook Pro costs consumers a wallet-denting $1,500 more. Add in that you cannot physically switch the built-in drive of a MacBook Pro for another, and storage becomes an expensive and frustrating problem.
So buying an external hard drive or SSD for your Mac is one of the better ideas and it's not all that different from buying one for your Windows PC. Most laptops with either operating system now come with at least one oval-shaped USB-C port, and it's the one you'll want to use for connecting your external SSD. The main difference is that many drives made specifically for Macs use the upgraded Thunderbolt data transfer protocol, which promises super-fast data transfers for photographers and video editors who need to store mountains of footage and access it very quickly.
Even the slowest SSDs are generally faster than mechanical hard drives, but there are still speed differences, with entry-level models providing speeds of around 500MB/s, while more advanced models can step up to 1000MB/s or even 2000MB/s. Other features to look out for include IP ratings for weather protection, and password protection for your important files. Just remember to check that any apps provided by the manufacturer work with Macs and well as Windows PCs.
What Solid State Drives Work for Mac?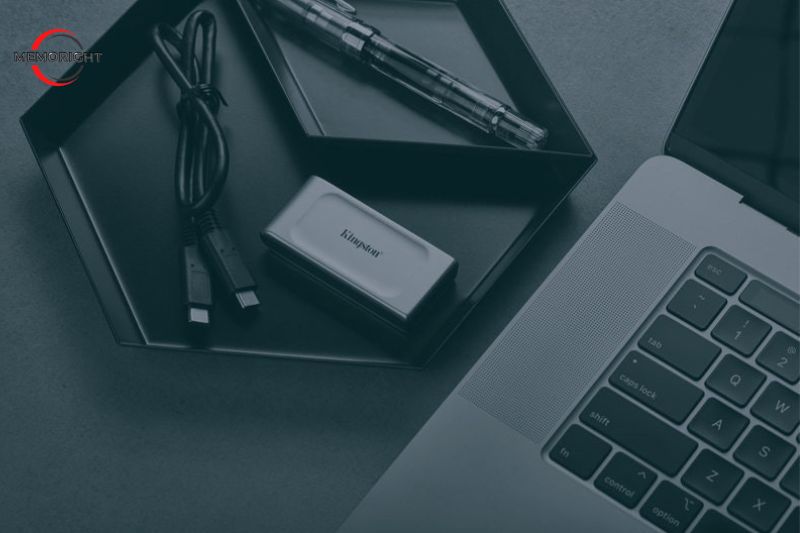 There are two types of SSDs that work with Mac computers: SATA and NVMe. SATA SSDs are more common and work with any Mac that has a SATA port, while NVMe SSDs are faster but require a specific type of port. You can use an SSD to store your operating system, applications, and files, or you can use it as a boot drive for faster access to your data. Most SSDs are available in (or compatible with) both 2TB and 4TB capacities, while some of the fastest models can offer up to 10TB of data. Some laptops even come with an internal hard drive that can be used as an SSD.
Today's Best External SSD For Mac Deals
If you're looking for the best SSD for Mac deals, you've come to the right place. Today, we've rounded up the best deals on SSDs for Macs, so you can upgrade your storage without breaking the bank. Whether you're looking for a high-capacity drive or a fast and reliable option, we've got you covered. So, what are you waiting for? Check out the deals below and upgrade your Mac today!
1. Best External SSD for Biometric Security – Samsung Portable SSD T7 Shield
| | |
| --- | --- |
| | Samsung T7 Touch Specifications |
| Capacity | 500GB, 1TB, 2TB |
| Interface / Protocol | USB-C / USB 3.2 Gen 2 |
| Included Cable | USB Type-C to Type-C & USB Type-C to USB Type-A |
| Sequential Read | 1,050 MBps |
| Sequential Write | 1,000 MBps |
| Interface Controller | ASMedia ASM2362 |
| NAND Controller | Samsung Pablo |
| DRAM | n/a |
| Storage Media | Samsung 92L TLC |
| Default File System | exFAT |
| Power | Bus-powered |
| Security | AES 256-bit encryption |
| Dimensions (L x W x H) | 85 x 57 x 8.0mm (3.3 x 2.2 x 0.3 inches) |
| Weight | 58 grams (2.0 oz) |
| Part Number | MU-PC500K |
| Warranty | 3-Years |
| | |
Pros:
Built-in fingerprint reader and LED status indicator.
Compact size.
Fast performance.
Available in capacities up to 2TB.
Cons:
Three-year warranty.
Small write cache
No IP rating
Samsung's T7 Touch portable SSD is an innovative, secure, simple-to-use portable SSD. With sleek styling and performance of up to about 10 Gbps read/write, it both looks and performs fast. It even has hardware encryption that works in conjunction with a built-in fingerprint scanner for keeping data secure. But while it is innovative, it isn't the best value you're looking for in a 10 Gbps portable SSD and it's not the fastest drive in its class, either.
Whether you're just backing up your data or storing your media library, portable SSDs enable snappy data retrieval. The added speed over a standard HDD can come in handy in many situations, especially if you value your time. With Samsung's T7 promising to deliver 9.5x the performance of an HDD, it's getting harder to even consider a pokey portable hard drive over a snappy external SSD.
2. Best External SSD for Content Creator – SanDisk Professional G-Drive SSD
=
| | |
| --- | --- |
| | SanDisk Professional G-Drive Specifications |
| Capacity | 500GB, 1TB, 2TB |
| Interface / Protocol | USB-C / USB 3.2 Gen 2 |
| Included | 19″ USB Type-C & USB Type-C to USB Type-A Cables |
| Sequential Read | 1,050 MBps |
| Sequential Write | 1,000 MBps |
| Interface Controller | ASMedia ASM2362 |
| NAND Controller | WD Architecture |
| DRAM | DRAM-less |
| Storage Media | WD 96L TLC |
| Default File System | HSF+ |
| Power | Bus-powered |
| Endurance | IP67 water and dust resistance |
| Security | 256-bit AES-XTS Encryption |
| Warranty | 5-Years |
| | |
Pros:
Competitive price
Slim, lightweight design
High (IP67) rating for water and dust resistance
Five-year warranty
Cons:
Mid-range performance
USB-C only (no Thunderbolt support)
The G-Drive SSD is an upgrade to the G-Technology G-Drive Mobile SSD, and is nearly twice as fast as that model (which has a rated speed of 560MBps), along with boasting a higher crush-proof rating and 256-bit AES hardware-based encryption. Like its predecessor, the SanDisk Professional G-Drive SSD is one of the more rugged drives on the market. It shares its Mac-friendly HFS+ file format with the G-Technology drive and the new SanDisk Professional G-Drive ArmorATD, which is a platter-based model.
HFS+ is one of two formats (the other is APFS) compatible with the Time Machine backup system in macOS. Windows, on the other hand, can't even read HFS+. If you need to use the G-Drive SSD with both Macs and Windows PCs, you'll want to reformat it to exFAT. This can be done through a Mac's Disk Utility, where HFS+ is called Mac OS Extended (Journaled).
3. Best Designed Portable Hard Drive – LaCie Mobile Drive
| | |
| --- | --- |
| | LaCie Mobile Drive Specifications |
| Capacity | 1TB, 2TB, 4TB, 5TB |
| Interface / Protocol | USB-C / USB 3.1 Gen 1,2,3,4 |
| Included Cable (s) | USB Type-C to Type-C & USB Type-C to USB Type-A |
| Sequential Read | 140 MB/s |
| Sequential Write | 140 MB/s |
| Storage Media | 2.5″ 5400RPM HDD |
| Default File System | exFAT |
| Power | Bus-powered |
| Security | None |
| Dimensions (L x W x H) | 10 x 87.8 x 121.6 mm |
| Weight | 200g (Without Cable) |
| Warranty | 2-Years |
| | |
Pros:
Sleek aesthetics
Solid build quality
USB-C and USB-C to USB-A cables included
Nice LaCie software package
Includes a month of Adobe CC
Cons:
Expensive for capacity and performance
Toolkit utility requires a download.
2 years warranty
If you're looking for a spiffy-looking, pocket-size mega-storage, you're living in the right era. Drives these days are inexpensive (pennies per gigabyte), and the release of LaCie's Mac-complementary Mobile Drive shows how fashionable they can be, too. A sleek, sophisticated-looking entry in the storage sweepstakes, this minimalist portable drive offers compatibility with USB Type-A or Type-C ports and comes in capacities from 1TB to 5TB.
You can cram many thousands of audio, image, or video files onto even the smallest; the 2TB model (in Mac-friendly Space Gray) that we're looking at here goes for $94.95 via Apple's online store. More colors will hit Amazon and other retailers soon. It's a winner and goes well with any of Apple's laptops, as well as any slick silver ultraportable.
And LaCie's Mobile Drive does not look like the other guy's portable drive. It's a 2.5-inch, 5,400rpm drive housed in a sheer slab of faceted aluminum. It's a smooth wedge measuring 4.8 by 3.5 Inch lying flat, and 0.39 Inch thick. Much unlike the touchy-feely, fabric-wrapped Backup Plus Ultra Touch from LaCie's parent company, Seagate, the Mobile Drive's whole body is milled metal with mitered edges. It weighs a touch more than some similar devices (7.1 ounces, about 1.7 ounces more than the Backup Plus Ultra Touch), but that heft feels right in a device like this one. It would fit right in sitting next to your high-dollar gaming laptop or Apple MacBook Pro.
4. Best Budget External SSD for Mac – Crucial X6
| | |
| --- | --- |
| | Crucial X6 Specifications |
| Capacity | 500GB, 1TB, 2TB, 4TB |
| Interface / Protocol | USB-C / USB 3.2 Gen 2×1 |
| Included | USB Type-C Cable |
| Sequential Read | 540 MBps |
| Sequential Write | N/A |
| Interface Controller | ASMedia ASM235CM |
| NAND Controller | Silicon Motion SM2259XT |
| DRAM | Crucial 96L QLC |
| Default File System | exFAT |
| Endurance | Drop-resistant up to 6.5 ft (2 m) |
| Security | N/A |
| Dimensions (L x W x H) | 11 x 69 x 64 mm |
| Weight | 42 g |
| Part Number | CT1000X6SSD9 |
| Warranty | 3-Years |
| | |
Pros:
Highly affordable and easily transportable
Low cost per gigabyte
Compatible with Xbox One, and PS4 game consoles (albeit not with bundled cable)
Cons:
Lacks hardware encryption
No USB-C-to-A adapter or cable in the box
A step behind in speeds, despite USB 3.2 Gen 2 interface
In early 2020, Crucial launched the X8 Portable SSD, an affordable, elegant, and high-performance solution that became hugely popular with laptop owners. While not expensive by portable SSD standards, the Crucial X8 was undercut by some competitor products that used cheaper SATA-based technology. These weren't as fast, but for many in the market for a portable SSD, they were quick enough.
Crucial responded in early 2021 with the X6, a portable SSD that didn't have the headline 1,000MB/s performance of the X8 but was a good bit cheaper. While having some of the styling cues of its X8 big brother, the X6 is essentially a lower-cost version that is smaller and lighter.
Where the X8 is constructed from a thick metal tube, the outside of the X6 is mostly plastic. Undoubtedly less durable, although it is still rated for a 2m drop onto a hard surface, and has the same three-year warranty as the X8.
5. Best Overall External SSD for MAC – Sandisk Extreme Portable SSD
SanDisk Extreme Portable V2 Specifications
Capacity
500GB, 1TB, 2TB, 4TB
Connection
USB-C or USB-A
Durability
IP55-rated for water and dust resistance
Interface
USB 3.2 Gen 2 (10Gb/s),

down gradable to USB 3.0 or USB 2.0

Read speed
1050MB/s
Write speed
1,000MB/s
Encryption
256-bit AES with Password Protection
Warranty
5-years
Pros:
Faster than SATA SSDs
Use both USB-A and USB-C
Lightweight
Cons:
Solid-state drives (SSD) are typically at least 4 times faster than a mechanical spinning disk drive, but until recently their prices have placed them outside the means of many creative professionals. The Sandisk Extreme SSD is the first of a new wave of drives that are far more affordable. In terms of $/Gb, they are still more expensive than mechanical drives, but the gap has closed and the clear speed and durability benefits of solid state drives make this a gap that's now small enough to be worth considering.
It's worth noting that the SanDisk Extreme Portable SSD uses USB 3.2 gen, which allows it to offer read and write speeds faster than SATA. However, don't worry if you don't have a built-in USB-C port in your machine as it comes with a USB-A adapter. Moreover, The original version of the SanDisk Extreme Portable SSD had a quoted speed of 550MB reads, and 500MB writes, as tested by the often optimistic CrystalDiskMark.
And, using the same synthetic benchmark we achieved 1,027MB/s reads and 958MB/s writes, almost exactly double. The performance limitation here isn't the NAND modules inside, but the USB 3.2 Gen 2 interface.
6. Best Portable Hard Drive for Large Media Collections – WD My Passport (5TB)
| | |
| --- | --- |
| Capacities | 1TB, 2TB, 4TB 5TB |
| Interface | USB 3.0, USB 2.0 USB 3.2 Gen1 |
| Weight | 120g (1TB-2TB), 210g (4TB-5TB) |
| Operating | 5°C to 35°C |
| Non-operating | -20°C to 65°C |
| Security | AES 256-bit hardware encryption |
| Warranty | 3-year |
Pros:
Competitively priced
AES 256-bit hardware encryption
Solid software suite
USB 3.1 Gen 2 Type-C
Cons:
Dated Micro USB connection
Slides around on your desk
3-year warranty
If you're on the hunt for a new external hard drive, WD's My Passport is a well-rounded choice. With a solid track record, password protection, and capacities of up to 5TB, it's prepared to store a lot — if not all — of your data and keep it safe.
WD's My Passport is a popular seller and for good reason. It's priced competitively and offers up a pretty good value if you are looking for a lot of portable storage on the cheap compared to SSDs. These portable hard disk drives (HDDs) aren't the flashiest or fastest of storage devices, but having had quite a few passes through my hands over the years for various backup or data migration purposes, they always get the job done.
The new My Passport has been slimmed down a bit compared to its predecessors but packs some decent density. WD's My Passport comes in capacities of 1TB, 2TB, 4TB, and 5TB. All are backed by a 3-year limited warranty and priced to move. Our 5TB review unit sold for around $120 on Amazon and Newegg when we wrote this. The company doesn't provide performance ratings on these portable HDDs, but performance can hit upwards of 120-140 MBps, depending on the capacity.
Ultra-Portable or 2.5″ SSD?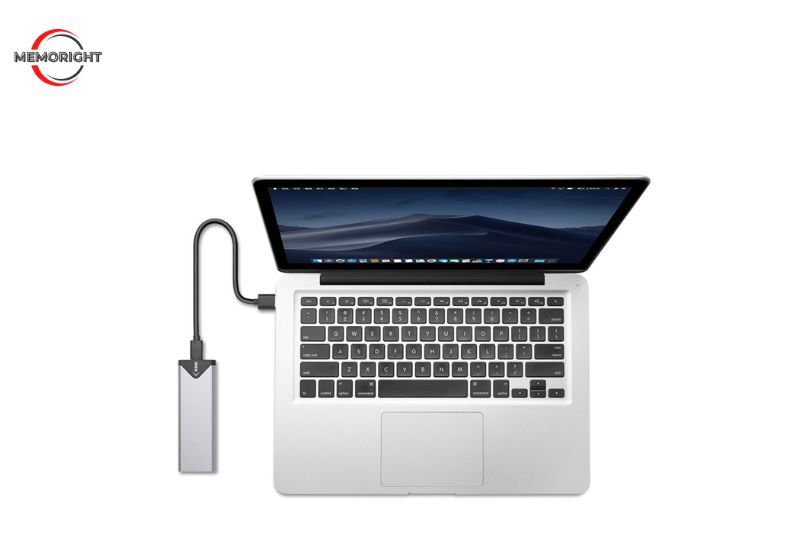 While read speeds for SSDs can range from 300 to 500 MB/s to 3000 MB/s, there are three main physical types of SSDs. Furthermore, two are portable. SSD boards that are "naked" plug into SATA or PCIe interfaces. You might use these to upgrade a desktop or replace the SSD in a laptop. Not very portable, they are.
The most affordable option for a portable drive is a 2.5 Inch SSD, which combines portability with internal use. A plastic shell protects them from preventing damage to the parts. However, SATA connectors are used in place of USB.
Use a SATA-to-USB connection instead of purchasing an enclosure for additional protection and the vital USB or Thunderbolt connectivity. We utilize one of these cables to move test data on a 2.5in SSD throughout the office. But it would help if you had a "pocket" SSD, not one with 2.5″ drive dimensions, for the best portability. These should not be used with Mac or MacBook internal connectors; instead, use USB or Thunderbolt connectors.
This sort is primarily found below. They are highly portable and compact. However, they are more expensive than 2.5in-style drives, so if lesser spending is your top priority, you might want to think about the larger variety.
How Much Storage Do I Need?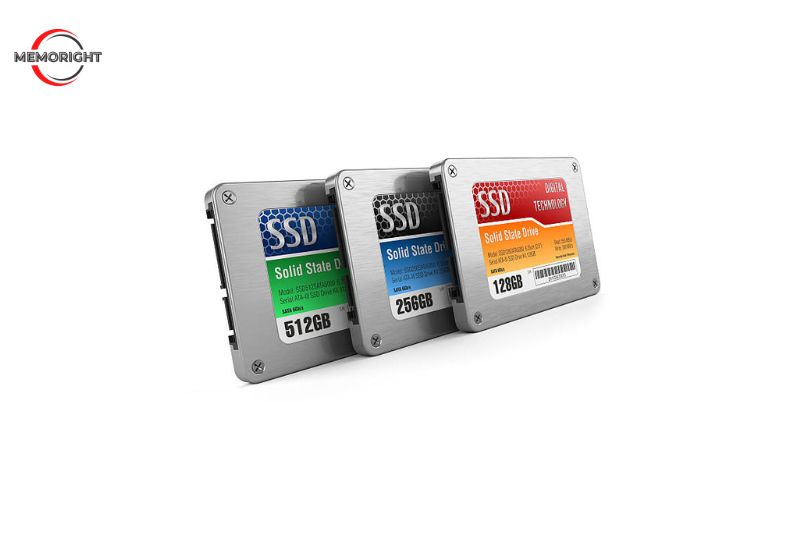 External SSDs from recent generations often come in three or four capacities: 250GB, 500GB, 1TB, 2TB, 4TB, and sometimes even 8TB. Because there is typically a significant price difference between 500GB and 1TB devices, you should carefully consider the required capacity. The same small price increases found in 1-4TB hard drives are not present.
To get the answer to "how much SSD storage do I need", you should figure out the following our blog. The total amount of storage space you have available will dictate how many files you can store in total. This number can vary greatly depending on whether you're just installing your operating system on an SSD or if you actually plan on working from the drive. Look at the available storage on your Mac and make decisions based on it.
How Much Space Should I Leave?
Most service providers do not disclose a specific amount of free space you should keep for optimum computer performance. The amount of space you should leave empty varies depending on the capacity of your drive and the type of drive you use. A solid-state drive has different needs than a traditional hard disk drive.
Older or slower hard drives may need to maintain more free space than newer, faster drives. There are a few rules of thumb going around online, but they aren't necessarily applicable today. Let's take a look at our blog to know how much space you should leave on your hard drive now.
FAQs
Which SSD format is best for Mac?
APFS is always a preferred option for SSD if you want speed, better storage space management, and error-free backups.
Will an external SSD make my Mac faster?
However, you can use an external SSD as your startup disk to run macOS and access your data. It will make your Mac 10 to 40 times faster for storage, and in turn, make your entire Mac much faster and even better.
Is exFAT better than Mac OS Extended?
Simply speaking, these two formats are both compatible with macOS. When you need to format a USB drive or an SD card, the ExFAT is a better choice. If you want to format a hard drive, it's better to choose Mac OS Extended.
Conclusion
There are plenty of options out there if you're in the market for an external SSD for MacOS. A short list of alternative products above that we think is your great choices. If you have any thoughts or suggestions about our list, let us know in the comments below! Otherwise, you can browse other articles on the Memoright blog. Keep a lookout for more helpful articles on the way soon!